By

Claire
Posted in Uncategorised
On December 23, 2015
Comments Off

on My Christmas Outfits planned in advance this year!
I wanted to write this blog post last year as I often get asked what I am going to be wearing over Christmas. As I have worn the same pleated 'pleather' skirt (which I absolutely adore) for the last three years (honestly) I have made a conscious effort not to wear it this year. So, I found myself with the task of finding three new outfits; for Christmas Eve, Christmas Day and Boxing Day. I do this for my daughter every year, always have and always will, because I love dressing her up! So, I thought I would do the same for myself and stop being lazy wearing the 'same old' for a fourth year running! I am lucky as my birthday is mid-November so I have been able to utilize a new birthday outfit for one of the Christmas ones. Not all the pieces are new, having a co-ordinated wardrobe in terms of correct colours and styles means I can re-use pieces again and again. So, most of the outfits are from existing pieces I own, there are just a few new additions. This is what I teach my clients; to have a wardrobe with pieces that can be mixed and matched and worn again and again in different ways. If you know your colours and perfect styles, you know how to create a capsule wardrobe saving you time and money. Take a look at the services I offer: www.clairejacklin.co.uk/services/
So starting off with Christmas Eve I have gone fairly practical. We always do last minute errands and generally faff about at home before going to the Nativity Service at the local church at 5pm. Then it is on to a close friends house followed by food and drinks, so I need to be in 'Mum' mode. I love Christmas Eve, it is the exciting part and I still feel that excitement of having to get to bed fairly early otherwise Santa Claus wont come!! This outfit was bought in November for my birthday (except for the bag and necklace) so although most of it is new, it can be struck off the expense list for December!
This year for Christmas Day we are going out for a change. After being in the kitchen hand washing and drying our wedding dinner service for three hours, I decided this year we would do something else! This will be the first time in eight years after having the children and we are trying our local boutique hotel. I am not sure I will like being 'not at home' but hey, I am more than willing to give it a go.
So, here is the outfit. The faux fur jacket I bought a few years back for a friends Christmas wedding at Claridges, which was such a special experience, so it is so nice to bring it back out to play. The dress is new and was bought for the husband's Xmas party earlier this month. I was rather shocked to discover that it requires no bra and although I don't have much to hold in place, I did feel a little risqué! However, I love the dress and as I can't find the receipt I have decided to give it a second go, I just hope I don't lose my nerve on the day! All the accessories are currently owned pieces, so only the dress is new.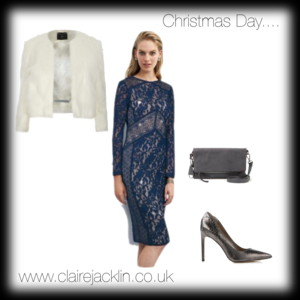 Boxing day is a very chaotic family day with all the nieces/nephews at the in-laws. It is what Christmas is all about, loads of children running around high on sugar, so much food you think you are going to pop and of course, lots of tipples should they take your fancy (erm yes please!). I have to confess all of the items in this outfit are new except for the bag. As my Christmas Eve outfit is predominately grey, I wanted to add a pop of colour. Having already bought one of these Rope Knot necklaces by the talented Anne Morgan, I knew one was not going to be enough! I absolutely love them and what is also great is that they keep your neck really warm too!! So, with a bit of last minute shopping, I raced up to Anne's beautiful new shop and grabbed this to complete my look http://www.annemorgan.co.uk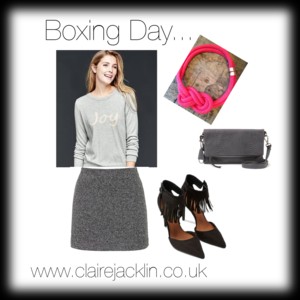 So although I haven't wrapped one present yet, I have got my Christmas cards written and posted and of course my outfits sorted! May I wish you all a very happy Christmas and a successful, healthy and happy New Year. I look forward to blogging more in 2016 and developing my menswear styling so it's going to be a busy one for me – I can't wait!