By

Claire
Posted in Uncategorised
On February 29, 2016
Comments Off

on A new Season, my top picks from the Spring/Summer '16 Trends
I love March, as to me it is the month of hope. Having survived the doom and gloom of January/February and Christmas long gone, March offers the start of a whole new Season, one filled with colour and possibly some better weather….?!   The new collections are firmly on the shop floors and I am starting to venture out with clients for personal shopping trips. As always, with the new trends it is a case of cherry picking the realistic ones and ditching anything unthinkable. For example, I shall not be taking on the 'Pyjama Party' idea and walking around in any form of sleep wear. Nor will I be accessorizing with a tiara of any kind – yep the catwalks had this idea going on!! So picking out the realistic trends, I have selected some wearable pieces to give you some new outfit inspiration.
So what is the Spring/Summer season all about? Well my first delight was seeing that the official Pantone colours of the year were: Rose Quartz and Serentity. These beautiful soft, cool colours are so gentle and ooze a feeling of summer. In this total look I have added the soft mint green top to mix the outfit up and added in grey accessories.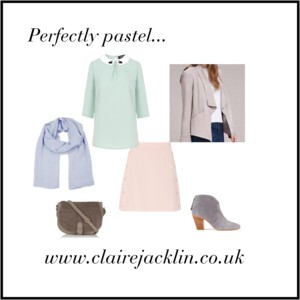 Top – John Lewis – £32
Jacket – Next £50
Scarf – Oasis £12
Skirt – Whistles £95
Bag – Oasis £35
Boots – Jigsaw £149
The Botanical trend has carried on through from last season and I have pulled out a few pieces that I have seen and liked.  These are shown as individual garments rather than a total look, as less is more when doing a particular print.  It is best not to go too heavy all over, so stick to the print in one garment and keep accessories minimal.  The jacket selected also hits on the 'Sporty' theme we are also seeing this season, great if you love comfort wear!  Here are a few pieces that caught my eye…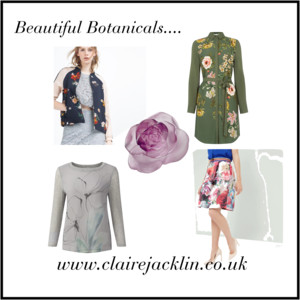 Bomber Jacket – Zara £39.99
Dress – Oasis John Lewis – £46
Top – Jigsaw £98
Skirt – Ted Baker £139
Next up are Stripes.  When I do a home wardrobe styling session with a client I often see an abundance of striped tops.  In fact my recent client on final the final count had purchased ten, all in varying colours!  When wearing stripes you have to be careful as the horizontal ones can be enlarging.  If you wish to avoid enlarging a certain area a good trick is to opt for a diagonal or vertical stripe, as this can have a slimming effect.   There also seems to be a lot of button detail going on too, Karen Millen have some really beautiful pieces in navy, which I love to team with red.  Here are some of my favourite finds….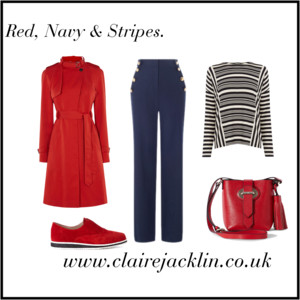 Mac – M&S Now £27
Trousers – Karen Millen £160
Top – Oasis £25
Shoes – Karen Millen £125
Bag – Karen Millen £150
And to finish off and to brighten up our day, I have chosen all things yellow.  Yellow is featuring heavily especially in accessories and so I have put together a few items which have caught my eye.  Yellow looks fantastic with denim and can really liven up an existing outfit to give it that Spring fresh look!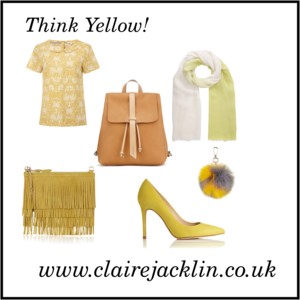 Top – White Stuff at John Lewis £42.50
Backpack – Jigsaw – £179
Scarf – Jigsaw £49
Clutch – Oasis £25
Keyring – Topshop £12
Shoes – LK Bennett £195
If you would like some personal styling advice please take a look at my new website, I'd love to hear from you.
Claire x