I haven't blogged for a while, I just don't know where the weeks go.  Easter has been and gone and before we know it another half term will have landed!
As we all know the weather has made it difficult to change over to a Spring/Summer wardrobe.  I just don't dare put away my thicker jumpers as I feel I am jinxing any hope we may have of a true summer!
However, I want to feel more summery and get away from my staples of grey, black and navy. I want to wear some lighter colours and fabric weights and so after having a little wardrobe cleanse (which I do at the end of each 'season') I made room for some new additions.
As you can see a I buy a lot from Next purely because they cater so well for petites, how I wish the high street would give us short girls more choice!!  And so, without landing myself in it with the husband(!) here is what I have been buying to try to embrace the lighter season of April/May!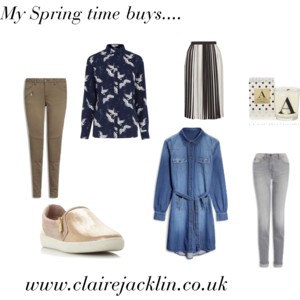 Khaki skinny jeans – Next
Blouse – Warehouse
Midi pleated skirt – Topshop
Candles – Next
Flatform pumps – Dune
Denim shirt dress – Next
Grey skinny jeans – Next