Brunch anyone…? I was totally thrilled to receive an email recently saying that the one and only Gok Wan is coming to Cardiff to host one of his 'Fashion Brunch Clubs'. Immediately intrigued, I launched into the article searching desperately for the date and then nervously checking my diary to expect to be busy that day with some form of child activity. As expected, there were several children's activities marked throughout the day but I was free (as free as you can ever be on a Saturday when you have a six and nine year old!). So with some ingenious planning, with husband and best friend to help with childcare, I managed to secure my place at the New House Country Hotel on Saturday 29th April!!!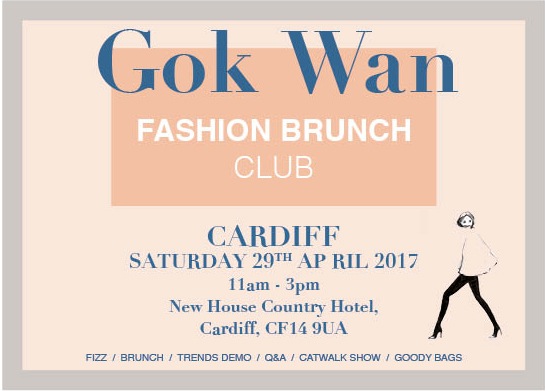 What Gok will be offering on the day is a catwalk show of womenswear latest trends, plus bridal, evening and occasion wear and a body shape masterclass. All of this comes with a glass of bubbles on arrival and a five star brunch plus the opportunity to ask Mr Gok any questions you may have (note to self, keep cool and give others the chance to speak!). The reason I am interested in this event is firstly because I love Gok. He made personal styling become so much more user-friendly and took away any of the harshness previous tv stylists had demonstrated. Gok is super humane and seems to have a genuine care for real women, no matter what their shape or size. There is no criticism or belittling – hugely important in the job we do.
As a personal stylist, I'm hoping to find some inspiration for occasion wear, which can be tricky when you are trying to create a unique look especially for 'mother of the bride'.  I'd like to discover some new brands that I possibly hadn't considered and see how Gok puts his twist on this area of styling. This event also comes at a perfect time as I have recently introduced a 'Bridal Style consultation' at the lovely studio I work from: 'A Brush with Beauty' in Penarth. I offer to guide a bride on how to find her perfect dress in terms of those styles which are going to flatter her body shape the most and reflect her personality. Also, which colour-ways she should consider according to her skin tone – there are a thousand shades of ivory, white, cream, blush etc etc! A wedding dress is usually the most expensive dress you will ever purchase and I believe you should be armed with all of this knowledge before the sales assistant is let loose on you!
So ladies, if you feel like some girly fun and a luxury day out, then juggle diaries and get the girls together for four hours with our superhero Gok. You can buy your tickets here: http://gokfashion.bigcartel.com/product/gok and if you are not near Cardiff there are other Cities he is visiting too. However, if you need a local personal stylist, who believes in 'real women with real lives' then you know who to come and find at the event – I'm the small one asking all the questions!!!xxxxx
Photographs of Gok Wan by Charlie Hicks
Bridal image by Sian Trenberth