So a recent brief that came my way was to find some very soft, handmade leather shoes. Initially I panicked thinking this was going to be immensely time consuming and a mission impossible. However, after reaching out to a stylist friend of mine, I was introduced to a brand called Solely Original. Obviously I had never heard of this company and as there wasn't a 'shop' to visit (only a showroom in east London) I have to admit, I was a little dubious. However, I contacted the company and everything was explained to me as to how things worked.
I was told a shoe moulding kit (known as a shoe last), would be sent in the post and I was to follow the instructions to mould the foot, to create the last. I wasn't expecting to plaster of paris my mother-in-law's feet to create this, but this is pretty much what we did, one Saturday afternoon!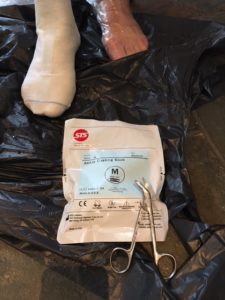 Having got over the worry of how to plaster the foot up without getting the mother-in-law stuck, in said mould, the process wasn't too complicated. It definitely requires some concentration and although a little timely, the satisfaction of seeing your creation, is rather satisfying!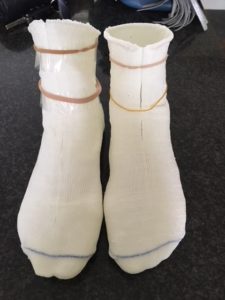 Using the online design tool was really good fun, the best part in fact. You simply choose the style of shoe, the heel height, the colour and any additional features such as a buckle or bow etc. The only thing I was a little uneasy to risk was selecting the colour. My mother-in-law had requested dark navy but any colour on a website can look very different to the actual product. This is why I don't personally offer Colour Analysis via email or through my website, I think you really need to see the person in the flesh, to assess colours accurately. Images are not always representative and we all know about the use of filters! To ensure that I got the colour correct Solely Original sent me some colour swatches, which was worthwhile, as there are a thousand shades of navy out there!
Once all of the information was put through the online order (which was just like doing any form of online shopping), we made payment and took the shoe lasts to the Post Office, in their pre-paid DHL packaging. The first payment incurs the cost of having the last made but this is a one off payment, as once they have your feet (so to speak) they have them for keeps! You can then go ahead and re-order any style of shoe, in any colour that you wish, without the crafting exercise ever having to happen again!
I have to say waiting for the shoes to arrive and the anticipation of whether the fit and colour was going to be right, was a little nerve wracking. You just never know when there is an element of DIY involved! We had a deadline of a special date in May, as my MIL was becoming the Lord Mayor of Cardiff (as you do!) Solely Original met this deadline and I was hugely relieved to say that the shoes fitted to perfection! In fact, they not only fitted to perfection but they are extremely comfortable too, which was a HUGE RELIEF!
So, sometimes it is worth taking a punt and giving something a go. We will definitely be ordering more pairs in different colours as comfort is king, when you have a year of engagements to attend! The beauty being, that the hard part is now done, it just a case of choosing your next design online – all made to measure! So with huge thanks to Solely Original for your customer service and your success in making a tight deadline (these shoes are made in China so shipping timeframes are incurred).
I am really delighted to say that the Lord Mayor's chosen charity is something very close to my heart. It is for the Noah's Ark charity – Tiny Lives appeal, to raise essential funds for the Neonatal unit at the University Hospital of Wales. My first baby was born two months early and received amazing care in the hands of the NHS. It was a very frightening time, especially being a first time Mum and Joseph (now ten years old) thankfully wasn't as early as some of the babies are. This charity and all involved, need as much help and equiptment as they can get, so please feel free to make a donation no matter how big or small for these precious babies.
For the Inauguration ceremony, we all had to scrub ourselves up, so as not to let 'Nana' down. For myself and Sophie this is no problem but for Joseph a suit is a little 'unusual' for him, shall we say. After a lot of persuading, I managed to force him into this gorgeous mid-blue 2-piece, which I think he looks gorgeous in! Had I have had my way, I would have gone for the waistcoat too, but I was pushing it there! The shoes were also from Next but I have to say that they spilt on the first wear, so I need to get them exchanged which was a little disappointing.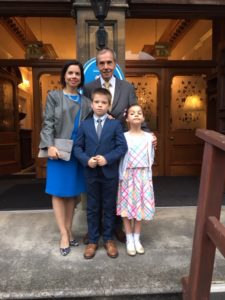 Sophie's dress thankfully went down a hit, I'm at the point now where I'm not sure if she will approve or not of my choices! However, this check prom dress got the thumbs up and I love the vibrant colours in it. Then it came to myself….I am wearing a 'cheap as chips' dress that I found in H&M and grabbed in a huge hurry, whilst dashing around the shops. I absolutely love the colour and although not great quality, the cut and colour made it a must have for the evening. Unfortunately it is not showing on the website, so I believe it is no longer available. The elderly gent at the back is my Dad, who loves gatecrashing any event, especially one with a little 'prestige' attached. It was just a shame he managed to knock champagne all over the new Lord Mayor and her posh gold chain – Oh the shame!!!!
Last of the family piccies to show, is the 114th Lord Mayor of Cardiff with her son Jonathan (who also happens to be my husband!!) As for being scrubbed up, he pretty much wears this kind of thing all day, everyday, poor guy, especially when the weather is this hot!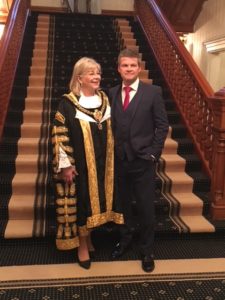 If you would like to have your Colour Analysis done – please do get in touch via my website. I offer Colour Analysis alone or with bespoke make-up (you really need to know your best foundation & lipstick shades too!)  Details can be found on my website here and gift vouchers are also available. Please also keep an eye out on my Instagram page for all of my latest posts.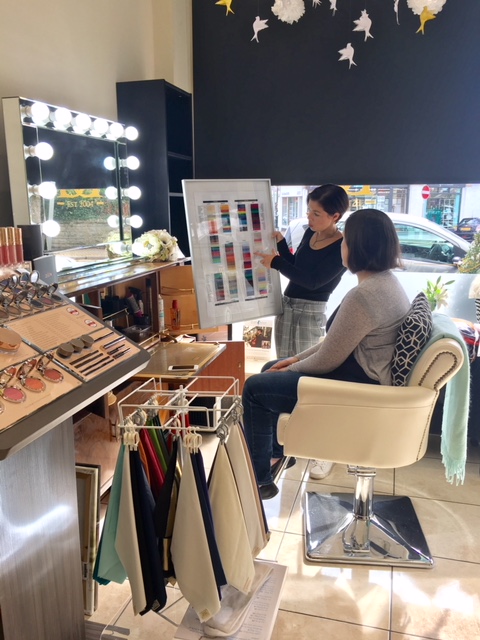 Much love, Claire xx