Whether you are having a Staycation or a Vacation, it is always nice to buy some new 'holiday clothes' to feel like you are escaping the norm. Ultra Violet is the Pantone Colour of the year. However, we have seen lots of this toned right down to a softer Lilac colour, along with many other pastels available this season.
I fell in love with this dress from Monsoon as soon as I saw it. Not only does it have flattering converging stripes around the bust area, but it also has elongating stripes to help the wearer look taller and slimmer. The frill along the armholes softens the look and adds femininity, but it's the ice cream colours that I loved the most!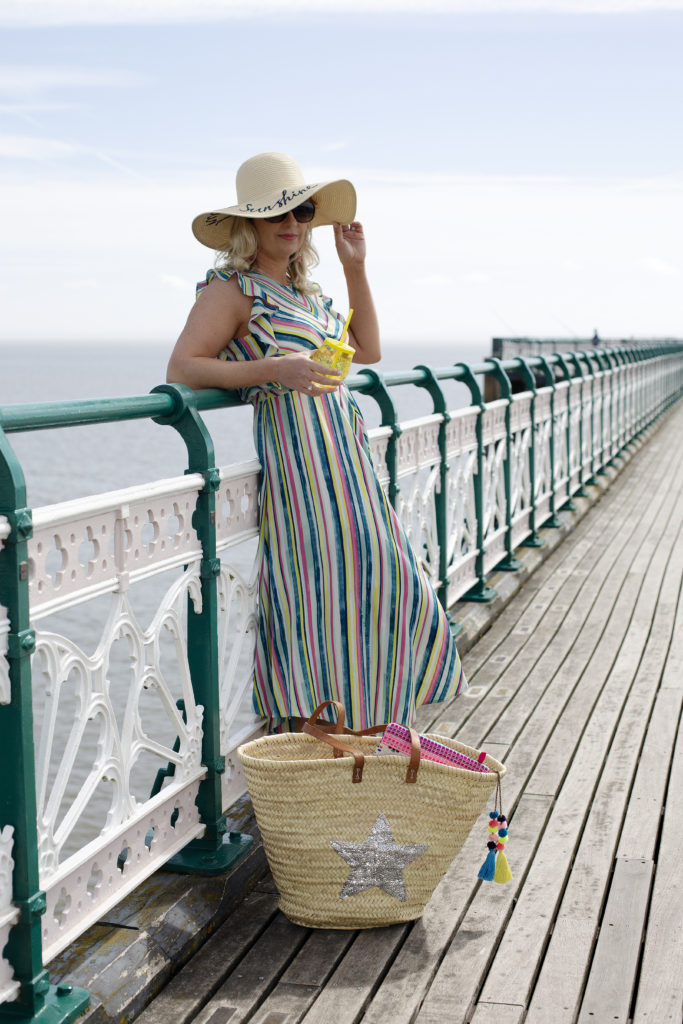 If you don't feel like wearing a mixture of pastel tones together you can always opt for one block colour and I particularly love this satin pleated midi skirt by Mint Velvet.
Pastels are not always easy to wear, especially for those with darker colouring who may suit stronger, bolder colours. In this case it's best to opt for a neutral colour such as Navy (which pretty much suits everyone) and add the lighter colours through accessories. For minimal holiday packing, accessories are key as they can change the look from day to evening with minimal effort. This beautiful floaty chiffon dress would be perfect for dressing up on a hot evening. The A-symmetric hemline and the slash sleeves are great for keeping cool and adding interest. I have been massively drawn to yellow recently and these Karen Millen shoes caught my eye. I always love navy and yellow together!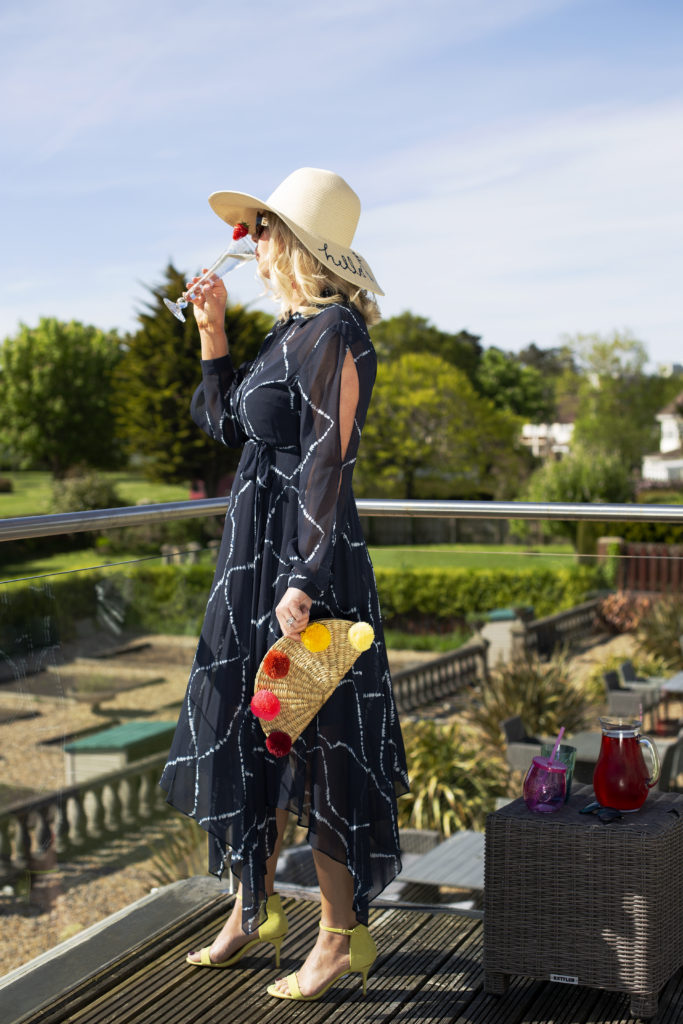 As a supporter of small brands I wanted to feature some new labels that have fun products and deserve a big shout out. The pom pom straw clutch featured is by @my_new.wardrobe and is a real 'wow' piece that adds to the evening look perfectly. The Star basket bag by @tobe_designs is roomy and would be fantastic for the beach or an evening of shopping and strolling along the promenade. However, my all time favourite has to be the Indian Summer tassel clutch by @effortlesstradingco (you can see it just poking out of the beach bag). Do check it out online, as it is truly stunning and makes for a great day/evening accessory, which I am so pleased to have been gifted. I will also be showing off the gorgeous Watermelon clutch, whilst on my hols to Marbella this July. The problem is, once you find a new brand that you fall in love with, you seem to want to buy everything. I am literally about to press 'add to basket' on this beautiful kaftan too. I do need a new cover-up for my hols, so it may as well be one made from 100% cotton hey?!
I will be posting all of my blog posts on my Bloglovin page as well as on the new delicious Penarth View website, which has now launched!
Much love, Claire xx
For transparency this is an affiliated post, so there may be a small amount of commission earned for any paid for click throughs.