I don't know about anyone else but 2018 hasn't really got going for me…It has all been a bit stop-start/start-stop and the blinking snow hasn't helped in any shape or form! We are in the throws of a big extension on the house, which I am finding 'challenging' to say the least. Our downstairs boiler died just before the really cold weather kicked in, so with no heating downstairs it has been a bit chilly!
So this year is going to be a little haphazard as we are living 'camping style' for a kitchen in the hallway. Whilst battling with the dust and mess, the children's activities and general life, I am going to be concentrating on blogging a little more this year. Writing is something that I thoroughly enjoy and find therapeutic (sorry if I begin to over-share at times!) I am using it as therapy to get through the chaos! I also have a new kitchen, utility room, playroom, snug and living room to plan the interiors for, which for me is just BLISS! So, I thought it would make sense to lock myself in my little office (which also needs adding to the interiors list) where I can keep myself warm and blog about my top (clothing) finds of the season as well as my new interior purchases. This is what the 'big build' is looking like so far and this is the vision I have for the new downstairs loo and utility room – you've got to dream right……?!! The beautiful utility room picture was taken in Neptune, which is a gorgeous interiors brand (store visited in Cheltenham) last weekend.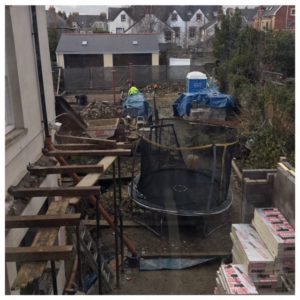 The 'Big Build….'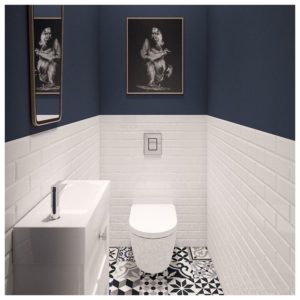 Image from Pinterest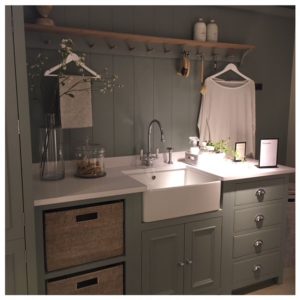 Photograph taken in store at Neptune
Talking of top finds of the season, I have recently bought these wide leg nautical CROPPED jeans from Warehouse Except on me and my ridiculously short self, they fit full length! Now, as a trained Stylist and Image Consultant, I know that anything too wide can make me look dumpy and well, shorter – which is not desirable…However, these do add a little drama and although I am 'not sure' on these, there is something that I do quite like about them. I love the nautical detail and how I can tuck a t-shirt into them (always a bonus), it is the very wide leg that is worrying me….I am not sure I will I actually wear them or if I just like the idea of them??? I know these would look fab with a chunky wedge, but I'm just not a 'chunky wedge' kind of girl. I find with wedges that I topple off them and twist my ankle – as I walk with my feet out #duckstyle! Hmmmmm, not a major life concern I know, but still, I wanted to share that this an example of knowing the styling rules and attempting to break them, which can be a good thing – it's just different when it's on yourself!

What has been a huge buzz to the beginning of this year is that I have built up a great working relationship with the scrummiest of local boutiques, Kiti Cymru. Kiti offers brands that normally you would have to go as far to London to find (unless you shop online of course) and it is so exciting to be able to access beautiful, fun and exciting pieces. Just look at this beautiful beaded clutch by Essential Antwerp that has just arrived in store….want one? Me too, I'll race you!!!!
Talking of running…. I've booked myself onto the Cardiff half marathon again and had started training. I took it upon my self to try some hill runs and have gone and done my back in! I've always had a weak lower back but this doesn't feel good, not one bit. I'm not very good at slowing down, I've always been a bit like Road Runner! My beloved Barre Concept (ballet/pilates) class has just ended and I'm left feeling bereft….So, left with few choices, I'm giving yoga a go…..Yup – yoga! The theme I am noticing here is that I am having to slow things down. Circumstances such as 'the big build' and 'the bad back' are forcing me to and guess what? I DON'T LIKE IT!!! So, in true Road Runner style, I thought I would get blogging a little more. I simply have to work and love working and love all things fashion and style (regular clients, I am still with you – so fear not!!!)

So, any top tips for strengthening ones core – wow that sounds boring just writing it. Any top tips on surviving a house extension, any top tips on squeezing work/life into school hours, please put answers on a postcard!!!
Here is to a wonderful Easter to you all and a much-needed break I'm sure. I will be posting my posts on my Bloglovin page as well as on the new delicious Penarth View website, as soon as it is completed in all its finery.
Quick note: for those who would like to meet me over a coffee to discuss their styling requirements first, I have added the option of a 'Style Consultation' to my list of services. I understand that it can be quite daunting to 'book' a stylist you have never met before and you may not know where you need to start. We can discuss exactly what you need help with and make sure we are starting in the right place.
Much love, Claire xx